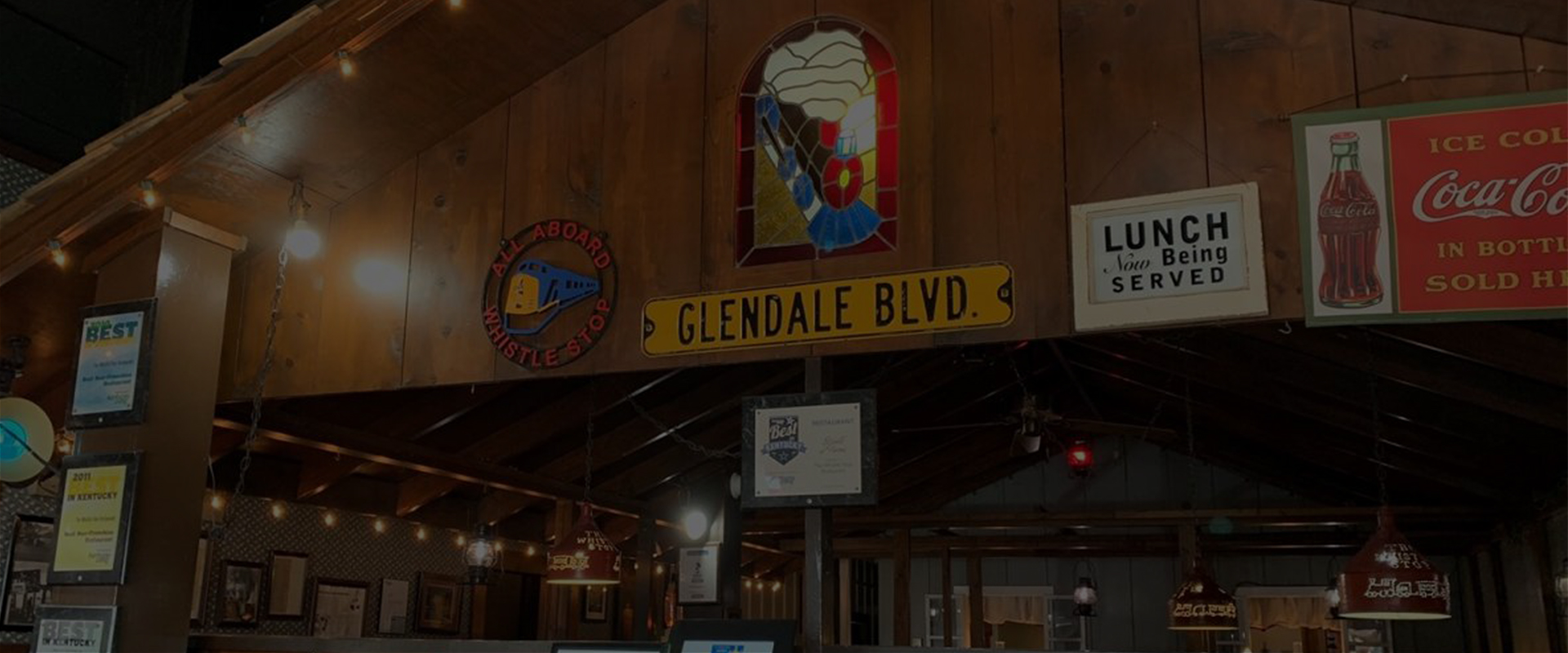 ---
Traditional Favorites
---
Famous Meatloaf
A customer favorite! Made here daily, it is a sweet meatloaf topped with sweetened diced tomatoes. Served with your choice of two sides.
$14.99
Pot Roast
Tender slow-roasted pot roast topped with beef gravy.
Served with your choice of two sides.
$18.99
Famous Fried Country Ham
Skillet-fried and served with re-eye gravy, buttermilk biscuits and your choice of two sides.
$16.99
Pork Chops
Thick bone-in pork chops, cooked in a cast iron skillet and seasoned with our homemade spice blend. Served with your choice of two sides.
One Chop: $18.99
• Two Chops: $23.99
Chopped Steak
Smothered in grilled onions and mushrooms, topped with your choice of cheese or brown gravy. Served with your choice of two sides.
$16.99
Country-Fried Steak
A tenderized steak hand-breaded and smothered in white pepper gravy. Served with your choice of two sides.
$16.99
Country-Fried Catfish Dinner
Two pieces of hand-breaded catfish in our southern-style cornmeal breading. Served with french fries and coleslaw.
$18.99
Hand-Dipped Southern Fried Chicken
This home-style preparation takes extra time, but the taste is worth the wait! Served with your choice if two sides.
1/4 Dark: $13.99
• 1/4 White: $14.99
• 1/2 Dark: $14.99
1/2 Mixed: $15.99
• 1/2 White: $17.99
Outrageous Chicken
10 oz. char-grilled chicken breast smothered in our Outrageous Sauce with sautéed mushrooms, crispy bacon and melted mozzarella cheese. Served with your choice of two sides.
$18.99
Chicken Tenderloins
Fresh chicken Tenderloins, hand-breaded and deep-fried to a golden brown. Served with our homemade sweet & sour and your choice of two sides.
$16.99
---
Just Enough Fixins
---
Kentucky Hot Brown
Thinly sliced ham and turkey served on a bed of sliced bread topped with our homemade cheese sauce, real bacon crumbles, and diced tomato.
$15.99 (Small Order $11.99)
Open-Faced Roast Beef
Slow-roasted beef topped with mashed potatoes and smothered with our scratch-made gravy over a slice of bread.
$13.99
Chicken Tender Basket
Three jumbo chicken tenderloins hand-breaded in our secret breading and deep-fried, served with french fries and our homemade sweet & sour sauce.
$12.99
Baked Icelandic Cod
Mild, flaky white fish from the cold waters of Iceland! Lightly-dusted with lemon pepper, baked and served with lemon herb butter. Choice of one side.
$16.99
Buffalo Chicken
Three buffalo chicken strips served with blue cheese cole slaw and one side.
$12.99
Vegetable Plate
Your choice of two traditional sides and two premium sides.
$13.99
Chicken Salad
Served with your choice of bread or muffin. Choice of one side.
$13.99
Shrimp and Grits
Six sauteed shrimp on top of Gouda-infused gruts, then topped with our famous country ham and green onions.
$16.99
---
Hand-Crafted Burgers & Sandwiches
Served on a brioche bun with side of fries.
---
L&N Burger
Thick and juicy char-grilled half-pound traditional American burger served with lettuce, tomato, onion and American cheese.
$15.99
Substitute for homemade pimento cheese - 99¢
• Add bacon - 99¢
Pork BBQ Sandwich
Shredded pork in a sweet & tangy BBQ sauce, served on your choice of a homemade bun or fried corn bread.
$13.99 (add cheese 50¢)
Southern Catfish Sandwich
Our famous hand-breaded catfish sandwich with homemade tarter, lettuce, and pickles.
$12.99
Reuben
Corned beef sliced thin and topped with Swiss cheese and sauerkraut on grilled rye bread. Served with Thousand Island dressing.
$15.99
Bourbon Burger
An 8 oz. char-grilled burger topped with caramelized onions, bacon, cheddar cheese and bourbon glaze.
$15.99
Soup & Salad or Soup & Sandwich
Choose a bowl of our housemade soup, then add your choice of either a small salad, chicken salad sandwich or grilled cheese.
$13.99
Smoked Gouda Pimento Cheese
Our housemade smoked gouda and sliced bacon served on grilled Texas toast.
$9.99
---
All-Aboard Appetizers
Take a step back in time when food was prepared the old-fashioned way - "from scratch". Things take a bit longer around here, so sit back, relax and enjoy one
of our delicious appetizers while your meal is prepared.
---
Smoked Gouda Pimento Cheese
Housemade served with crisp bread crackers.
$7.99
Fried Dill Pickles
Dill pickle slices breaded and deep-fried to perfection. Served with homemade sauce.
$8.99
Fried Green Tomatoes
Enough to share! Hand-sliced and double-dipped in buttermilk and our homemade breading. Served with our special sauce.
$9.99 (Half Order $7.99)
Appetizer Sampler
Southern-friend okra, fried dill pickles, and our famous fried green tomatoes all in one delicious combination.
$12.99
Hot Cheese Bites
Cheese cubes with bits of hot peppers fried to a golden brown. Served with our homemade sweet & sour sauce.
$7.99
BLT Tater Tots
Tater tots covered with bacon, shredded lettuce, diced tomatoes, cheese, and our ranch dressing. Enough to share!
$11.99
Chicken and Waffles
Our famous chicken tenders cut into pieces on top of a sugar-crusted Belgian waffle, then topped with a Kentucky-Proud maple syrup.
$12.98 (full order- 8 pieces) (Half Order- 4 pieces $8.95)
---
Soups, Salads & Such
Dressings: Thousand Island, Honey French, Italian, Honey Mustard, Poppyseed, Housemade Bleu Cheese, Fat-Free Raspberry Vinaigrette, and Homemade Buttermilk Ranch.
---
Fried or Grilled Chicken Salad
Topped with your choice of fried or grilled chicken breast. We make our salads with a blend of salad greens, tomato, carrots, shredded colby and monterey jack cheese and potato sticks.
$15.99
House Salad
Perfect just the way it is. We make our salads with a blend of salad greens, tomato, carrots, shredded colby and monterey jack cheese and potato sticks.
$5.99 (Add a house salad to any entrée for only $2.99)
Chef Salad
Fresh-made salad topped with Applewood smoked bacon, turkey, boiled eggs, grape tomoatoes, carrots and shredded cheese with your choice of dressing.
$13.99
Bean Soup
A medley of white and brown dried beans seasoned with country ham. Served with sliced onion, pickle relish, and our famous fried cornbread.
Bowl: $6.99
• Cup: $5.49
French Onion Soup
Fresh onions sautéed and simmered in a rich beef broth, topped with toasted bread and mozzarella cheese, then baked until gold and bubbly.
Bowl: $7.99
Tomato Soup
Served with a grilled cheese sandwich on thick toasted brioche bread.
$8.99
---
Sides
---
Traditional Sides
Down-home Southern favorites that are sure to please - $3.99 each.
Mashed Potatoes
• French Fries
• Cole Slaw
• Green Beans
• Applesauce
• Lima Beans
• Collard Greens
• Fried Okra
• Baked Apples
• Tater Tots
• Famous Fried Cornbread (Two pieces)
Southern Premium Sides
Upgrade for an additional 50¢ with entree or $4.49 a la carte.
Broccoli Casserole
• Sweet Potato Fries
• Corn on the Cob
• Onion Rings
• Fresh Fruit
• Corn Pudding
• Vegetable Medley
• Macaroni & Cheese
• Side Salad
• Baked Potato (After 4pm Loaded - add 99¢)
---
Award-Winning Desserts
Our desserts are made totally from scratch daily and are available until we sell out!
Whole pies, cakes, cupcakes, brownies, and cookies available. Please order at least 24 hours in advance.
---
Meringue Pies
Coconut Meringue
• Peanut Butter Meringue
• Butterscotch Meringue
• Chocolate Meringue
• Lemon Meringue
Pies and Cobblers
Sugar Cream Pie
• Blackberry Cobbler
• Kentucky Pie
• No-Sugar-Added Peach Cobbler
Homemade Cakes & Shakes
Hand-dipped Milkshakes (vanilla or chocolate)
• Hot Fudge Cake
• Hand-dipped Ice Cream (ask your server for today's varieties)
Our customers have so many favorites, we rotate our cakes - so ask which cakes we have baked today
---
Beverages
Hand-crafted drinks available - ask your server for flavors.
---
Pepsi Products
Pepsi, Diet Pepsi, Mountain Dew, Diet Mountain Dew, Root Beer, Sierra Mist, Dr. Pepper, Pink Lemonade
Other Drinks
Sweet Ice Tea
• Unsweetened Ice Tea
• Freshly Brewed Coffee
• Hot or Cold Spiced Tea
• Milk
• Buttermilk